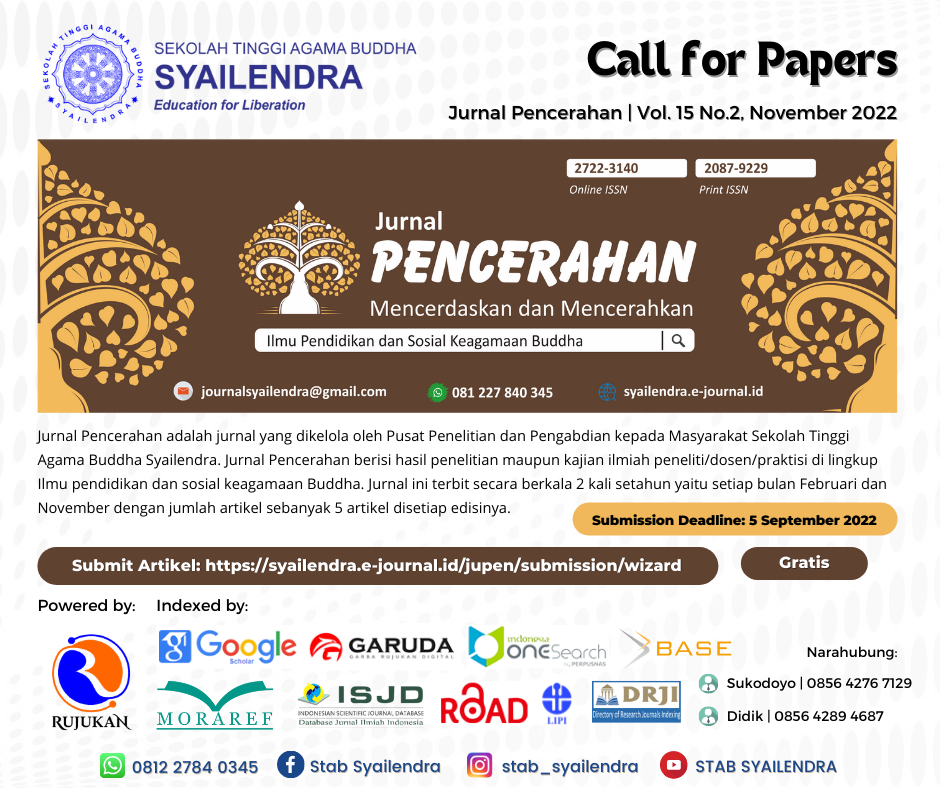 [Call for Papers]
Jurnal Pencerahan: Mencerdaskan dan Mencerahkan Vol.15, No.2 Februari 2022
The Enlightenment Journal is a journal managed by the Center for Research and Community Service at Syailendra Buddhist College, which has an ISSN number (print): 2087-9229 and E-ISSN (online): 2722-3140. The Enlightenment Journal contains the results of research and scientific studies of researchers/lecturers/practitioners in the scope of Buddhist education and socio-religious science. This journal is published regularly 2 times a year, namely every February and November with a total of 5 articles per edition.
.
For lecturers, researchers, teachers, and students who want to publish their articles in the Enlightenment Journal, submit articles no later than September 5, 2022.
.
Register: https://syailendra.e-journal.id/jupen/user/register
.
Submission: https://syailendra.e-journal.id/jupen/submission/wizard
.
Templates can be downloaded:
https://drive.google.com/file/d/1UHPTVk21vuHWhDiYlwRbFuG6vYJVPjUU/view
.
Article will be published in Volume 15, Number 2 November 2022.